The Thirteenth Zappanale
Bad Doberan, Mecklenburg-Vorpommern, Germany
25-28 July 2002
report by Ben Watson
Wolfhard Kutz runs an electric-goods store in Bad Doberan, a picturesque town four kilometres south of the Baltic Coast in what used to be Communist East Germany (the DDR). For the last thirteen years, he's also been running the Zappanale, a festival dedicated to the music of Frank Zappa.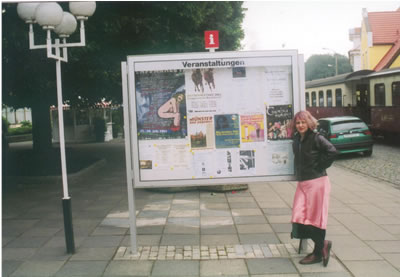 Esther in Bad Doberan with Zappanale poster
Kutz remembers when Mothers of Invention albums had to be smuggled across the border as they were banned as examples of "western decadence" by the Communist authorities. In Prague, enthusiasm for the Mothers and the Velvet Underground led to the formation of the Plastic People of the Universe, whose fantastic debut album - Egon Bondy's Happy Hearts Club Banned - was issued in 1978 ("recorded in Czechoslovakia, produced in France, pressed in Ireland, printed in England"). I first read about the Plastic People in Socialist Worker: this anti-stalinist, leftwing newspaper supported the guitar-playing dissidents. The Plastic People had been jailed, and Socialist Worker wanted readers to give them their support.
As a punk and an international socialist, I was electrified to read Svatopluk Karasek's poem about the Communist bureacracy in the album's booklet:
They are afraid of the old for their memory.
They are afraid of the young for their innocence.
They are afraid of the workers.
They are afraid of party members.
They are afraid of those outside the party.
They are afraid of science.
They are afraid of art.
They are afraid of books and poems.
They are afraid of records and tapes.
They are afraid of musicians and singers.
They are afraid of typewriters.
They are afraid of telephones.
...
They are afraid out in the streets.
They are afraid inside their castle ghetto.
They are afraid of their own police.
They are afraid of each other.
They are afraid of what they have said.
They are afraid of for their position.
They are afraid of Marx.
They are afraid of Lenin.
They are afraid of all our dead presidents.
They are afraid of truth.
They are afraid of freedom.
They are afraid of democracy.
They are afraid of the Human Rights Charter.
They are afraid of socialism.
SO WHY THE HELL ARE WE AFRAID OF THEM?
On the back of the album sleeve it said "Free Johnny Rotten", a phrase I didn't understand for two decades. Then Esther met up with a dreadlocked Czech guy at the Returns To Marx Conference at the Tate Modern in June 2002. He told her why they'd put that slogan on the album. The great "anarchister" had refused to help the Plastic People or publicise their cause: he didn't think you should make criticisms of a "socialist" country (this makes me extra proud of the "state-capitalist analysis" of post-1920s Russia worked out by Tony Cliff which provided the basis of Socialist Workers Party politics). Although at the time plastic punks and trend-followers made fun of me for liking "that old hippie" Frank Zappa, I believe that combining a love of Zappa with punk and revolutionary politics provides you with a better musico-philosophical point of view than following the dim political recommendations of "stars" like Johnny Rotten. Mark P of Alternative TV thought in the same way: listen to The Image Has Cracked, it is essentially a punk remake of Freak Out! (just as Swamp Dogg's Total Destruction To Your Mind is essentially a country-soul remake of Freak Out!).
Once you get away from the petty trends and intellectual limits which hem in both mainstream and so-called avantgarde music circles in Britain, what does Frank Zappa's music mean in the world? I was aware that as well as providing inspiration for the Prague Velvet Revolution (the Plastic People played at Vaclav Havel's parties, and Havel invited Zappa over to Prague when he was in power), a statue of Zappa had been erected in Vilnius. The brochure for Zappanale #13 promised: the unveiling of a bronze bust of Zappa by Czech sculptor Vaclav Cesak;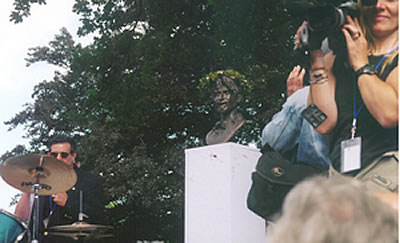 a total of one hundred musicians (including ten ex-Zappa alumni: Jimmy Carl Black, Roy Estrada, Don Preston, Bunk Gardner, Napoleon Murphy Brock, Ike Willis, Scott Thunes, Bob and Thana Harris, Mike Keneally) spread between eighteen bands; three days of music at the Rennbahn, a race-course track two kilometres from Bad Doberan, which you reach via a steam train called "the Molli";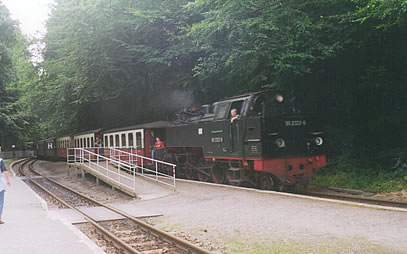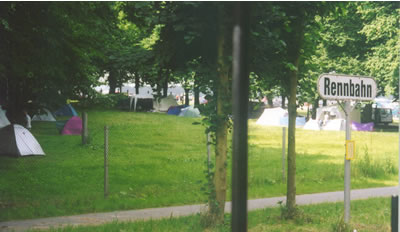 plus appearances by Zappa's younger-brother Bob and baby-sister Candy; an interview with Miss Pamela from the GTO's and a lecture by zappologist Jim Cohen; plus an exhibition of zappological aracana in a pavilion in the town gardens. Esther and I had to go!
Historically, Mecklenburg-Vorpommern (the area east of Denmark and south of the Baltic) has been Germany's land of resorts, recuperation and efficient agriculture.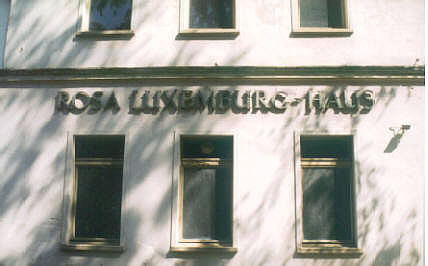 We liked the names of the buildings in Heiligendamm
There's no unsightly urban sprawl. Indeed, the villages' half-timbered houses, cobbled streets and redbrick old-gothic churches, surrounded by their neat allotments and dreamy wheatfield horizons, have an almost disneyesque cuteness. A network of cycle paths and smooth-running railways give the eco-conscious an unspoiled playground. How many rock festivals have you arrived at by steam train?
The Communist authorities hated rock culture, but this had a good side. Capitalism never moved in to ruin it, so its institutions here have a fan-based, DIY flavour lacking in the west (except perhaps in punk). For example, Joachim Behl, a radical lawyer from nearby Schwerin, self-published a book this year named John Lennon: I Don't Believe In The Beatles. Bad Doberan's Zappa fervour is fabled. Organised by Kutz's brainchild, the Arf Society (membership 180), the Zappanale is a labour of love. The effusive gratitude of the american guests and musicians - "Gee, it's not like this in the States!" - indicated that Bad Doberan has something the USA lacks.
Understandably, local politicians used the event to vaunt their town, spouting the jargon introduced by the fall of Communism and German reunification ("Gerechtigkeit und Offentlichkeit"). Political tensions surfaced. Only the CDU (conservative) speaker was actually booed, though the incongruity of having the Mothers perform "It Can't Happen Here" - Zappa's acapella dada masterpiece - at an official occasion was piquant.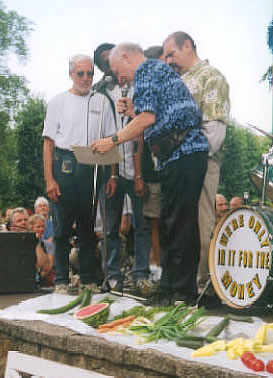 Bunk Gardner, Napoleon Murphy Brock, Don Preston, Jimmy Carl Black (obscured), Roy Estrada
Zappa's "Sofa", played on tenor, baritone and tuba by members of the Ed Palermo Octet, was appropriately stirring and tender. The ceremony ushered in hot sunshine which lasted the rest of the event.
In Bad Doberan's Kamp Theater, actor Daniel Rohr (centre in photo, at unveiling ceremony) from Zurich presented a specially-written piece which successfully transposed Zappa's words into a German-language playlet.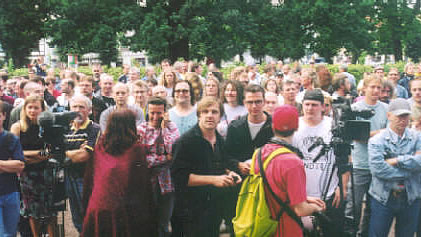 It was billed as "about Zappa", but actually it was about a still more interesting phenomenon, the Zappa fan.
Songs and philosophical tidbits from interviews became theatre of the absurd (Rohr specialises in Beckett), highlighting the hallucinatory barminess of Zappa's oeuvre ("St Alphonso's Pancake Breakfast" as a German monologue was particularly headspinning). Rohr knows his Zappa: his version of "The Torture Never Stops" included the quotation from "Chatanooga Choo Choo" which Zappa used to include on live versions. He sang "Love Of My Life" to his stuffed Pudel (the German word for "poodle" is pronounced just the same as in English, but its spelling reveals its etymological root in "puddle", the German for lake - the poodle was originally a retriever for ducks shot in the water). "Absolutely Free" sounded great in German, though it was strange when the reindeer names "Donner and Blitzen" came by. Rohr fielded premier musicians: the saxophonist, Frank Goos, played the kazoo break from "You're Probably Wondering Why I'm Here" with such splenetic abandon that Jimmy Carl Black - who was sitting next to me with his lovely wife Monica - burst out laughing. Rohr specialises in Samuel Beckett (I forgot to ask him if he knew that the "theatre of the absurd" is mentioned on the Freak Out! sleeve) and is currently reciting the whole of "Howl" from memory on stage (an amazing feat, though turn to 1-2-3-4 under The Punk Papers to get the Out To Lunch line on Ginsberg ...).
Jim Cohen's lecture brought forth the information (from Frank's brother Bob, father of noted saxophonist and contributor to BANANAFISH, Stanley Jason Zappa) that "Thelma" in the song refers to Johnny Franklin's mother, providing gasps of delight from the hardcore fact fiends in the audience. Put under the grill by Cohen, Miss Pamela from the GTOs revealed that the priceless spoken word on Permanent Damage was extracted from the girls by Zappa in interviews.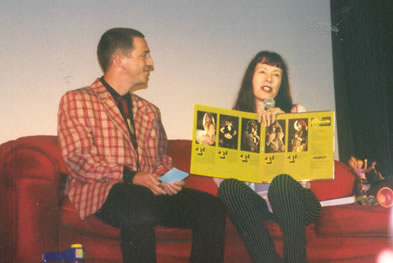 Jim Cohen on sofa with Miss Pamela and inner gatefold of GTO's Permanent Damage
Given that Cohen - also the Zappanale's MC and interpreter - had Jimmy Carl Black relate the story of Berlin on 16 October 1968, when leftwing students sabotaged a Mothers gig, one might view the Zappanale as endorsing the "practical conservatism" of Zappa's own politics.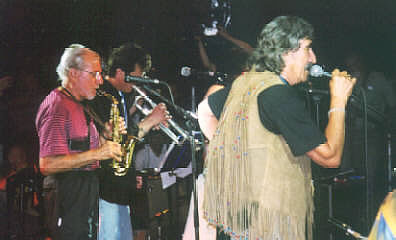 Bunk Gardner, Bob Harris and Jimmy Carl Black
However, when the Nasal Retentive Orchestra - a fluent covers band from Paris complete with a fantastic keyboardist named Jean-Yves Frot who improvised musique concrète on his Korg Z - attacked a chicken carcase onstage with exploding fireworks and a meat-cleaver to protest France's recent electroral "choice" between Jacques Chirac and Jean-Marie Le Pen, the anger and intelligence of frontman Jeff Marschalle were distinctly zappaesque.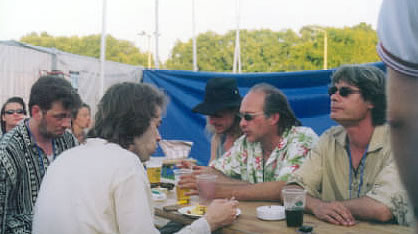 Nasal Retentives eat lunch and plan downfall of Chirac. Bon appetit!
Project/Object from America have to be the Rolls Royce of Z-cover bands, here fronted by Ike Willis (who sang with Zappa 1978-88 and created the role of Thing-Fish).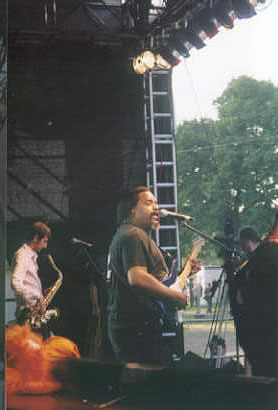 Ike with Ossi Duri
They expertly reproduce Zappa's 80s orchestral-rock live sound. Willis and guitarist André Cholmondeley (who excelled on his "Inca Roads" guitar solo) also made lyrical adjustments to vilify Bush and NATO, showing that Zappa's principled anti-war position - and playful way of updating a lyric - haven't been forgotten.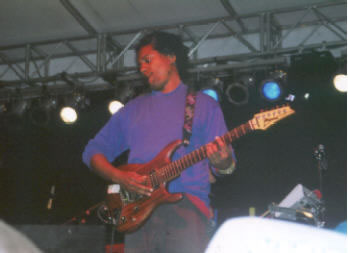 André Cholmondeley
The Zappa legacy is varied enough to accomodate many kinds of expression. Cosmik Debris from Budapest were thunderously exotic: Zappa as the anthem of the magyar horde.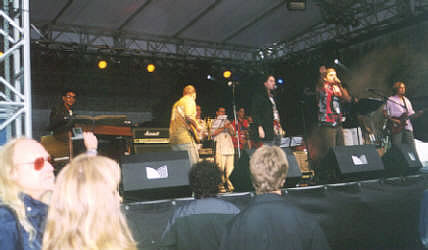 Their brilliant 15-year-old altoist provided "Easy Meat" with blessed bebop relief. From Germany, Dwarf Nebula's muddled interpretations were saved by a powerful female singer; Landplage*'s set triumphed via sheer punk aggression. Guitarists Pierrejean Gaucher and Christopher Godin imbued Zappa's themes with ECM-style tastefulness; the Euphorium Freakestra brought on Günter "Baby" Sommer, Germany's wide-eyed free-drumming legend, and created an experimental set by confronting the linear drive of "My Guitar" and "Frogs With Dirty Little Lips" with Sommer's omnidirectional beat and ethnic forgeries.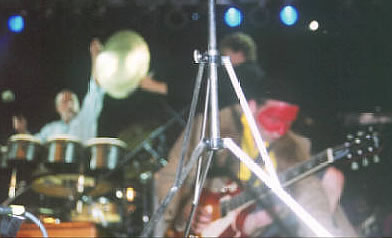 The teenage musicians of Ossi Duri (shortly to embark on an italian tour with Willis) negotiated the fiendish complexitudes of "Sinister Footwear" as metal virtuosi, causing much jaw-dropping. Their bass-player, Simone Bellavia, had a fantastic haircut, which he allowed me to photograph in the hospitality tent backstage.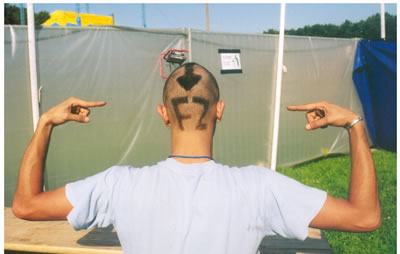 Thana Harris sang "Flam Bay" to wonderfully sensitive and well-paced electronic keyboards from Don Preston. Unfortunately, she also performed Steve Vai's "Boy & Girl", which is a by-numbers demonstration of how NOT to combine pop song formats and finicky musicianship. There is a dilemma about cover bands: you want creative use of Zappa's material, but if bands simply launch into their own material (like Nigey Lennon/John Tabacco, the Lewinskys and Ozric Tentacles) you feel like they're just hijacking the festival for music you wouldn't actually have bothered with otherwise. The Ed Palermo Octet was exemplary.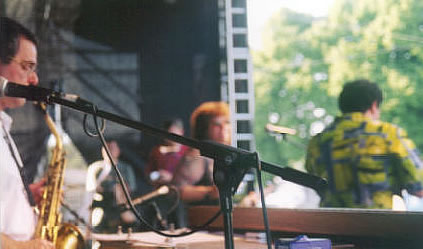 Although I'd found his 1997 release on Astor Place a little anodyne - too much compressed smooth jazz - his arrangements here were informative about the music, genuine reflections on what Zappa's music sounds like (rather than simply enthusiastic renditions of the songs). Ed Palermo's alto sax has that immediacy and bite that makes you rush over to the stage to check out what's happening.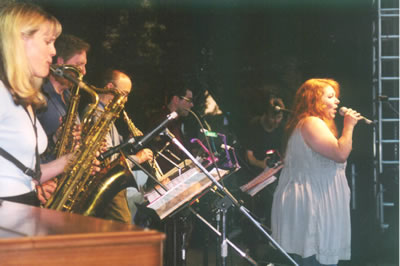 The high points of the festival were Candy Zappa's raunchy soul vocal on Little Richard's "Directly From My Heart To You" (backed by the Palermo brass section), Ed Palermo's wonderfully original arrangements of "Sleep Dirt" and "Regyptian Strut", and the astonishing vocal pyrotechnics of Napoleon Murphy Brock with the Grandmothers at the close: his "Love Of My Life" is a restructuralist work of incredible power. Don Preston pointed out that not many cover bands play "Duke of Prunes", one of Zappa's most "interesting" compositions. His version was exemplary, bringing an interpretative ease and jazzy feel into the music that was remarkably refreshing after hearing "Easy Meat" pounded through a dozen times. With the Grandmothers, accuracy and spontaneity found a true dialectic, and the Zappanale lifted into trans-historical sublimity. Roy Estrada's high weazlings ("In The Sky") were absolutely unbelievable! As Andr' Cholmondeley said from the stage (he was playing rhythm guitar): "We've got Bunk Gardner, we've got Don Preston, we've got Jimmy Carl Black, we've got Roy Estrada, Miss Pamela dancing on stage - this is a fucking TIME MACHINE!".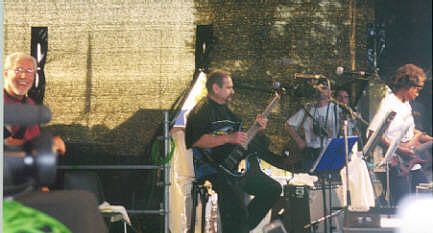 Bunk Gardner, Roy Estrada, André Cholmondeley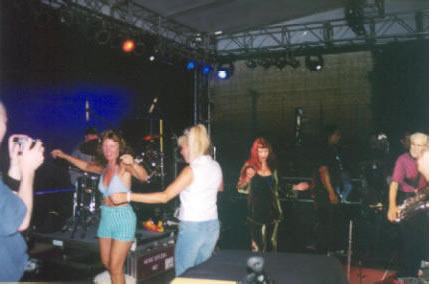 Language problems prevented me from pursuing my interest in Zappa behind the iron curtain. The second language of people educated before 1989 tends to be Russian, not English. I chatted with Wolfhard Kutz for about five minutes before I realised he couldn't understand a word! He's got a nice smile, though. I noticed some Plastic People t-shirts and enjoyed the general aura of hedonism and musical expertise (the Ed Palermo Octet were taken very seriously). The only side of Zappa's legacy that was under-represented was the classical - it would have been nice to go and hear a programme of Stravinsky, Varèse and Zappa played on acoustic instruments somewhere. However, if you are looking for a holiday next year, the place is absolutely idyllic (we had fantastic weather, so hot we nearly fainted when walking round the Schloss in Schwerin - Ian Day's account of a rain-soaked Zappanale where all you could do was drink and dance to keep warm sounds like another story).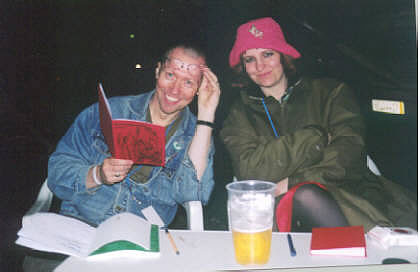 Andy Greenway, honcho of Idiot Bastard website, reads Music, Violence, Truth
You can camp by the Rennbahn, so things can work out quite cheap. If you want information about next year's Zappanale (tell 'em to book the Muffin Men and Jimmy Carl Black with Eugene Chadbourne and Pat Thomas!) contact the Arf Society: www.arf-society.de or by post to Arf Society e.V. Office, Am Markt 3, 18209 Bad Doberan, Germany.