DEREK BAILEY & THE STORY OF FREE IMPROVISATION
by
Ben Watson
ANYONE WHO THOUGHT THE AVANTGARDE WAS DEAD SIMPLY FORGOT TO LISTEN
PURCHASE YOUR
handsome black hardback
Verso
£20
ISBN 1-84467-003-1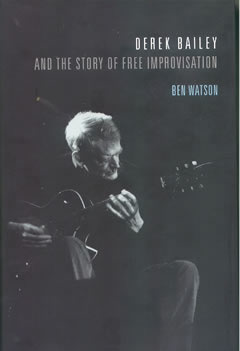 458 pages long
27 photographs (from the Bailey archive, most unpublished)
de-luxe index
24 references to Han Bennink
13 references to Eugene Chadbourne
20 references to John Zorn
1 reference to spanking
2 references to classical music
47 references to Tony Oxley
13 references to Beethoven
13 references to rubbish
1 reference to James Chance
exhausting discographies of the complete Bailey oeuvre & of the Incus catalogue
!!SEVEN YEARS IN THE MAKING!!
another "biography" to idea-storm the literalists
musical criticism as class struggle
save music writing from the blahs!
HYPE FROM THE BEST: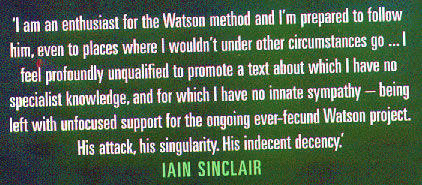 Guitarist Derek Bailey - currently celebrating his 74th year - has become a by-word for superlative musicianship and awe-inspiring defiance of musical cliche. He is idolised by musicians as diverse as Pat Metheny, Sonic Pleasure and Dallas Boner. Ben Watson, author of Frank Zappa: The Negative Dialectics of Poodle Play, tells Bailey's story via taped interviews, gig-reports and album-reviews (including an exhaustive discography of Derek Bailey's hard-to-track recordings).

After ten years working himself to the top of his profession as a dance-hall and session musician, the guitarist committed himself to Free Improvisation in the early 60s. He has lived to see it become the lingua franca of today's art-music scene. Bailey won't allow Free Improvisation to be bracketed with American Jazz: instead, his staggering list of liaisons - which includes existential sound-artists, classical percussionists and string-players, Butoh dancers and tap dancers, rock stars, jazzers, poets, careerists, eccentrics, loungecore trendsetters and a host of fiercely individual musicians - needs to be placed at the centre of current debates about Modern Art. Uniquely among British music-writers, Ben Watson is equipped for this task.

Derek Bailey & the Story of Free Improvisation lifts the lid on a scene that has flourished by defying every known law of the music business. This biography - spiky, polemical and often very funny - provides 21st-century anti-capitalism with an aesthetic manifesto.

!!!!!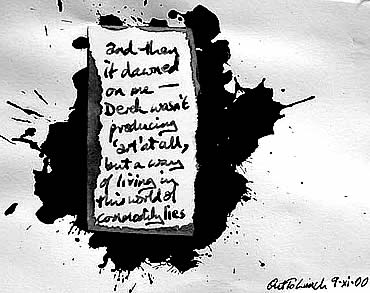 Back to The Bailey Papers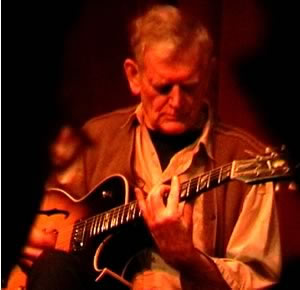 Derek Bailey at Tonic, NYC, 17 April 2001