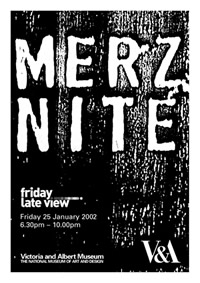 QU'EST-CE QUE C'EST, LE MERZ NITE?
MERZ NITE was an event held under the dome of the Victoria & Albert Museum at 8.00pm on Friday 25 January 2002. The intent was to celebrate FREE museums (a policy only recently restored at the V&A) with POETS and MUSICIANS drawn from the genuine avantgarde - anti-spectacular, techno-critical and real. Twenty abstract verbalists and free improvisors held forth from a specially constructed podium to a crowd of 2,367 (the museum's count). Reactions varied from "one of the most inspiring events of my life, so vibrant I felt surely I wasn't in this country" (Maggie O'Sullivan) to "an organisational shambles" (Jonathan Jones, letter to The Wire, March 2002). Disagreements about MERZ NITE are rife. What happens when you bring this DIY culture out of its upstairs pub rooms, and present it, without adornment, amplification or lights, to two thousand people? Everyone today is so used the Big Sell - the perfect presentation of spectacular non-entities, every eye-lash and simper in digital detail - that ACTUAL COMMUNICATION/NON-COMMUNICATION inevitably brought CONFUSION. The alienated, and the cultural specialists who exploit that alienation, were flummoxed. Was this necessarily a bad thing? As Josef Dietzgen said in 1886 when defending the arrested editors of the Chicagoer Arbeiterzeitung (revolutionary communists disowned by the increasingly reformist National Committee of the American Social Democracy): "According to me - and I am at one in this with all the better comrades - we shall not arrive at the new society without serious struggles. I think we shall not get along without disorderly uproar, without `anarchy'." [The Positive Outcome of Philosophy, Chicago: Craik, 1928, p. 28]. We present some relevant materials.
HOW WE SAW IT
Refusing the hierarchical device of amplification, performers pitched their art into the gawping orifice of the mass, who simultaneously drowned everything out with their chatter AND complained they couldn't hear. The contradictions of encouraging freedom and collectivity in a populace trained in passivity and competition couldn't have been more graphically displayed. Various legislators of the poetry scene were "disappointed" that their favourite poets were inaudible, but anyone with an interest in unusual crowd dynamics and unpredictable spatial audio was enthralled. An anarchist and a maoist both condemned the event because we didn't smash any statues. At Militant Esthetix we leave the ultralefts to such pointless and unhappening extremism. Round the podium, it was like the Bailiff addressing the mob in Wyndham Lewis's CHILDERMASS: chaotic, unpredictable, stupid, disgusting, hopeful, incomprehensible, exciting, conflictual, poetic.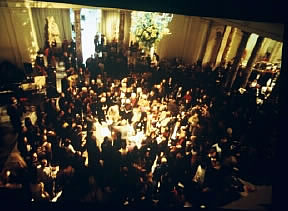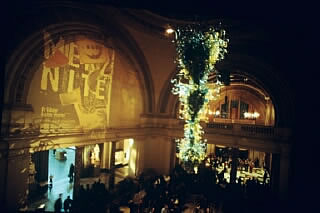 THE SOUND OF MERZ NITE: A CRITIC WRITES ...
Listening back to his DAT of MERZ NITE, Tim Fletcher, who has documented practically every improv gig in London for the past ten years, declared he's never recorded anything like it. Trotskyist Al Richardson, editor of Revolutionary History and scourge of bourgeois frivolity, said (over a pint in the Calthorpe): "The music, such as it was, went over my head, I listen to Mozart, but I'd have to have been made of STONE not to have appreciated the fun and energy that surfaced". (Militant Esthetix wonders: Can too much culture make a world of marble?) Despite having been cast as someone who only favours Oi! punk in the February issue of the Wire, Mad Prider Rob Dellar was wildly enthusiastic too. Stu Calton and Keston Sutherland made valiant points versus the blahs on the poets' list (their texts appear below).
Evil Dick's THE SOUND OF MERZIC, a 35-minute mix from his own pocket-recording, shows what amazing things could be heard given a modicum of musical alertness. It includes a telling track where poet Andrew Duncan - surrounded by the staggering sound of Pat Thomas's tumultous grand piano - complains he "can't hear anything"!!
"Most people wouldn't know music if it came up and bit them on the ass." Frank Zappa
NB: Evil Dick's THE SOUND OF MERZIC is available as a CD-R (press here)
From 6pm to 8pm: Dallas Boner DJ played a set of soul (Swamp Dogg), funk (Johnny Guitar Watson), weird (Plastic People of the Universe) and hip hop (Pharoah Monch, Erick Sermon), with a single "the disco is broken" noise intervention (Brötzmann's Machine Gun). Collages were made...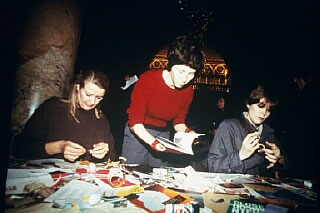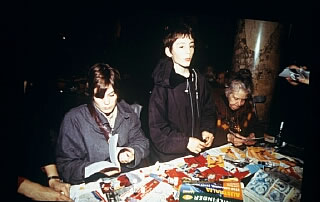 and affixed to a wall.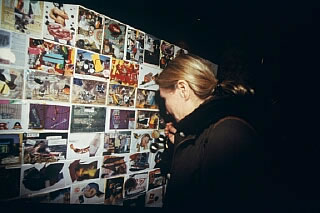 GAIL BRAND's opening fanfare
MAGGIE O'SULLIVAN casts her spell our way
ULLI FREER widdershins in custo-MERZified jacquet
JENNIFER PIKE in statuesque winding sheet
BOB COBBING lights up the crowd
OUT TO LUNCH shouts out Tom Raworth's "All Fours"
The Indomitable GAMMA mummifies the dada hecklers
T.H.F. DRENCHING & his dictaphone of the proletariat
JOHN PLANT on a strange day in November 2001
ESTHER films the crowd
SONIC PLEASURE flautist
MARK P strums guitar
LOL COXHILL whips it right out
ADRIAN CLARKE's postcard fantasm closing address
Read MERZ NITE Controversy, Denunciation, Menippean Paeans
Esemplastic Tuesdays at the RCA
NB: Images of MERZ NITE either derive from Esther Leslie's video of the event, from slides made by Maja Kardum (copyright V&A) or are postcard-sized collages made by participants which have been deposited at the V&A in a box marked MERZ NITE.